Calm The Heart, Soothe The Spirit, Revitalize The Body In A World Of Exclusive Privacy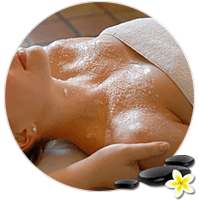 Salt Glow
Experience the restorative and hydrating powers of the invigorating salt scrub and enjoy a pleasurable departure of dead cells from the body. The salt give skin a healthy look, gentle exfoliates dry dead skin for a refreshed and radiant glow and maximizes circulation letting skin breath while optimizing the benefits of moisturizer application. Suitable for dry skin.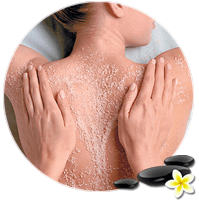 Shea Butter Massage
Ahh – Shea Butter, all the way from Africa. All your dry dead cells are buffed away with an aroma body scrub to prepare skin for benefits of the shea butter that is melted and massaged gently into your skin making it very soft and well nourished. Suitable for all skin types
Back Treatment
This is a popular treatment by which a purifying mask or paraffin wax for a therapeutic back treatment is applied. The purifying mask is for one who suffers with congested backs, causing comedones, spots etc. giving a hidden back. The paraffin wax is for a therapeutic back treatment, which aid to those suffering with arthritis rheumatism and backache.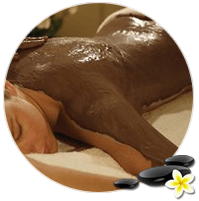 Inch Reducing Body Wrap
This is a unique body treatment technique used increasingly by modern therapist to help clients achieve inch loss, cellulite reduction and give increased confidence in their appearance. It gives you an incentive to start a calorie controlled diet. The vigorous massage technique helps to increase the circulation stimulating lymphatic drainage. The firmly wrap bandages helps to compress cellulite fat and increase the expulsion of toxins.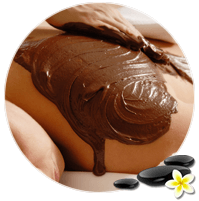 Baltic Mud Wrap
Your skin will be gently exfoliated and a warm Baltic body mud will be applied. Your body will be wrapped for 25 minutes in a mylar sheet to keep you warm while you enjoy the benefits of a scalp massage. The mud removes debris and impurities to restore healthy hydration through hydrated organic colloidal black silts from European fresh water lakes. After you rinse the mud from your body your skin would be breathing and feeling energize as the treatment finishes with a relaxing massage.
Acti-Seaweed Wrap
Your skin will be gently exfoliated then warm acti-sea body mud will be applied. You will be wrapped for 25 minutes in a mylar sheet to keep you warm while you enjoy the benefits of a scalp massage. This mud Stimulates, firms and moisturizes the body with its seaweed blend. It also aid to stimulate the thyroid gland for slimming, increasing vasodilatation for decongestion and waste elimination, protect and regulate cellular moisture exchanges, rebalance and restore proper hydration, and protect future exposure by fighting free radicals. You then rinse the seaweed from your body leaving your skin well nourished breathing and feeling great while you drift away in a relaxing massage.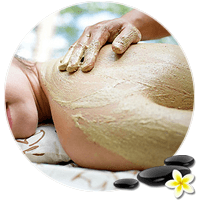 K.I.S Herbal Wrap
Signature Treatment
Begin with a taste of freshly brewed Nevisian bush tea. Your entire body will then be wrapped in a warm fleecy linen, soaked in a herbal brew. Detoxify, relax, cleanse and refine your body all at once while you receive a divine coconut oil head massage. You are then unwrapped and your skin will be hydrated with a relaxing sugar cane massage. Your treatment ends with a mini foot reflexology. Before you say "I'll be back," a taste of fresh sugar cane sticks or coconut jelly water will be sampled. (seasonal) Advance notice required.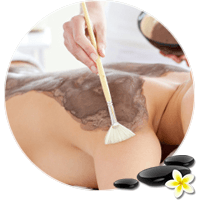 Tropical Island Tonic (Body Wrap)
Enjoy a harvest of sweet tangerines and oranges in our refreshing Tropical Citrus Collection. Uplifting and fresh, this delightful sorbet of sweet citrus essences is for the young at heart. Entwined with fresh island honey we create a tonic for your skin. Fist your skin is gentle exfoliated with a citrus scrub then a warm tropical citrus tonic is applied to the body. You will be wrapped for 25 minutes in a mylar sheet to keep you warm while you enjoy the benefits of a scalp massage. Once the product is rinsed from the body you will receive a relaxing butter massage.
Please Complete The Following Form: